The Desert Fathers and Mothers – Who Were They?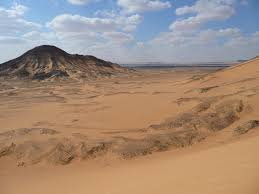 In the beginning there is struggle and a lot of work for those who come near to God. But after that there is indescribable joy. It is just like building a fire: at first it is smoky and your eyes water, but later you get the desired result. Thus we ought to light the divine fire in ourselves with tears and effort.
–Amma Syncletica
How to Get Away From It All
Covid 19 and the restrictions on movement these past few months, have brought a lot of us into a sort of desert. Not the desert of intense heat so much as the experience of being isolated from family and friends with less activities to amuse and distract us. This has been especially true for older people cocooning and those living alone. In the 3rd century A.D. a significant number of Christians were drawn to move to the deserts of Egypt and Syria to get away from worldly distractions and focus on the spiritual life. We might call them monks and nuns now, but back then, they were mostly laypeople who were drawn to a life of prayer and study of the scriptures. There were broadly three main types of lifestyle. The first was that of being a hermit, often living in a cave and having little or no contact with anyone. The second type was what has been called the cenobitic life i.e. communities of men or women who lived together and shared work and religious practices together. The third style was a blend of the first two: the semi-hermitic lifestyle, where between two and six monks or nuns with a common spiritual leader would meet together on Saturdays and Sundays to pray and spend time together.
This last group influenced most of the sayings found in the "Sayings of the Desert Fathers" as recorded by the influential John Cassian, a Roman-educated cleric who died in 235 AD. These feature 1,202 sayings from spiritual leaders of their communities known as Abbas for men, and Ammas for women. The sayings feature 27 of these men and only 3 of the women. This is not to say that the women were less in evidence but rather that given the male dominated society of the time, women's wisdom frequently got overlooked. One of the most well-known of these women is quoted above. However, according to Rowan Williams (see Silence and Honey Cakes: The Wisdom of the Desert), Methodius of Olympus "wrote an important dialogue where female figures were given the role of expounding aspects of the Bible and the life of prayer and asceticism."
Christianity Goes Mainstream
By the beginning of the 4th century AD, the numbers of those opting for a life in the desert had swelled into their thousands. In 313 AD, the persecution of Christians ended with the conversion of the Roman Emperor Constantine. Christianity effectively became the state religion and there was a huge effort to build churches to accommodate all those who now called themselves Christians. Up to this time, martyrdom for the faith was considered a heroic and saintly way to achieve salvation. When that option was no longer available, the idea of renouncing the pleasures of the world and fleeing into the desert to live a life of prayer, fasting and solitude became the new model for achieving spiritual perfection.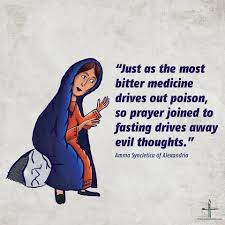 Now you might think that, the lives of these men and women were free from temptation, having forsaken the flesh pots of the big cities of Egypt and Syria and beyond, to live in desert isolation. But, the actual experience proved to be quite different. In the desert, with few distractions, and a lifestyle that frowned upon casual conversation, the spiritual seeker was faced with their own inner demons. All those unresolved issues of anger, jealousy, hurt and loneliness now took centre stage in the attention and couldn't be avoided through busyness and other forms of distraction.
Moreover, the usual human temptations of sexual lust, wanting to be noticed, possessiveness, competitiveness, craving for fine food and alcohol, instead of going away, were now initially more insistent than ever. A spiritual practice was needed to be developed that would allow these ascetics to skilfully tame these impulses without denying them their reality, and in doing so, to grow spiritually.
Pachomius, an early Desert Father, set out some basic rules for living that involved extensive periods of prayer and discipline as well as obedience to the community leader in addition to manual labour, the practice of silence and regular fasting. These practices prefigured the regulated monastic rule formulated by St Benedict over a century later. Since these men and women were not supported financially by a monastery, they had to earn a living in the world. The weaving of baskets and cloth was a common way of earning a livelihood because this kind of repetitive work facilitated the practice of 'praying without ceasing' advocated by St. Paul in his 1st Letter to the Thessalonians.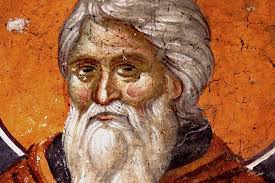 Another Desert Father, John Climacus, established a method based on this idea, involving the constant repetition of a single word or short phrase which would help to drop below the chatter of the mind to the open receptivity of the heart. This method influenced what became known as the Jesus Prayer: "Lord Jesus Christ, have mercy on me", described in the 19thC Russian spiritual classic, The Way of the Pilgrim. It was also an inspiration for the Benedictine, Fr John Main in the 20th century, who having learned mantra meditation from Hindu scholar Swami Satyananda in India, was heartened to discover something similar in the Christian practices of the Desert Fathers and Mothers. Fr Main went on to formulate Christian Meditation, employing a similar technique of repetition of a sacred word, a technique which continues to grow in popularity in our own time.
Now you could be forgiven for thinking that the lives of the Desert Fathers and Mothers are completely irrelevant to most people living busy lives today. But then Covid 19 has forced a lot of us to slow down and in the face of 'not going out' have turned towards 'going in', a practice that has the potential to bring us 'indescribable joy' according to Amma Syncletica quoted at the top of this article. In the meantime, there can be a bit of a struggle as we learn to tame the mind and heart. Given our very modern problems of anxiety, comfort eating, lack of exercise and making ourselves miserable by comparing ourselves unfavourably to others who have more 'followers' or 'friends' on social media, the 'Sayings of the Desert Fathers' and their way of life, may have a lot to teach us.